The importance of a lunchroom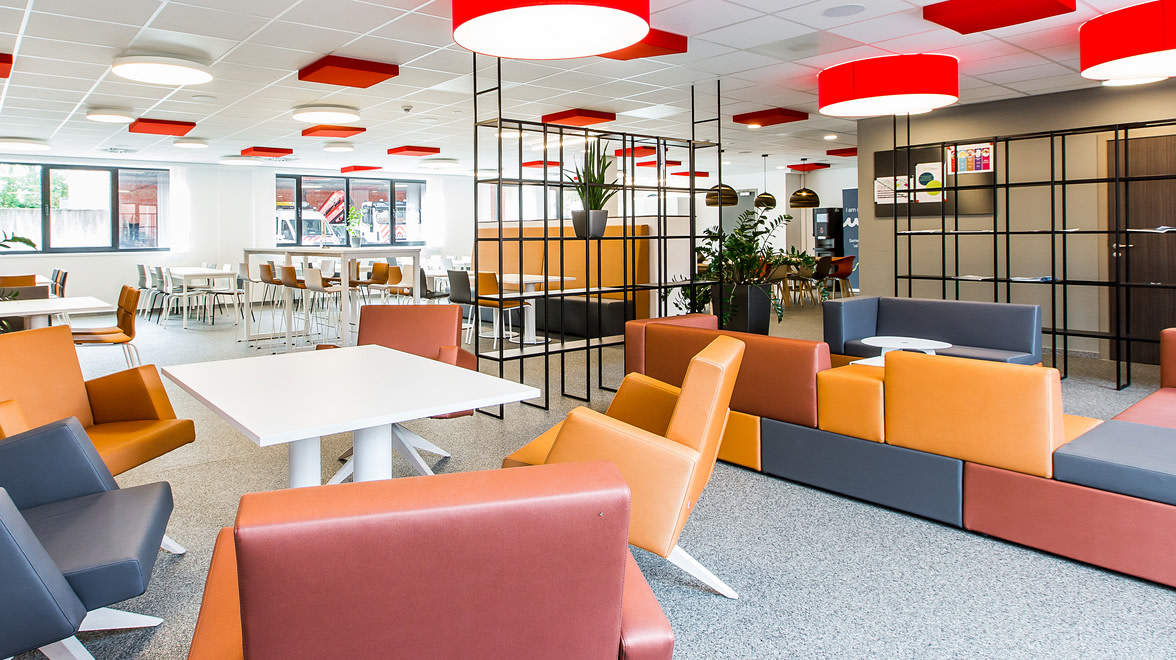 The importance of a separate lunchroom
At Fluvius in Lubbeek they know the importance of lunch breaks. That's why we were happy to transform their cafeteria into a homely and cozy lunch room. A place where employees chat with each other and relax for a while. After all, it's not a good idea to quickly eat your sandwiches behind the computer. We all need a moment's rest to work productively in the afternoon.
A homely and cosy lunch place
How to decorate a lunch place in a homely and cozy fashion? With a creative interior! That's how we started working at Fluvius. We divided the large space into smaller cozy corners.
In one of these corners we placed a homely sitting area using our Ply sofas. These seats create a peaceful oasis in a large open space. They are modular and can therefore be used in any room. Finally, they can not only be used as a lunch place, but also as a touchdown workstation or for a short consultation. In short, our Ply sofas are multifunctional.
We also played with height. In the center we created an island with high System tables and Club bar stools. By alternating different heights, the space is pleasantly filled and decorated. The view is interrupted by this island, avoiding the feeling of emptiness in a large space.
Next to all this, we used our Fat Victory chairs as comfortable lounge chairs that are also fit for a living room. The cozy atmosphere is enhanced by the materials we use, which in this case, is wood.
Finally, we upholstered everything in warm homely tones. By also paying special attention to user-friendly materials, we created a lunch room that can perfectly handle intensive use.
Would you also like your employees to be productive after lunch? Talk to us.
On the lookout for your perfect solution?
Our experts create the working environment that's perfect for you, with custom advice.