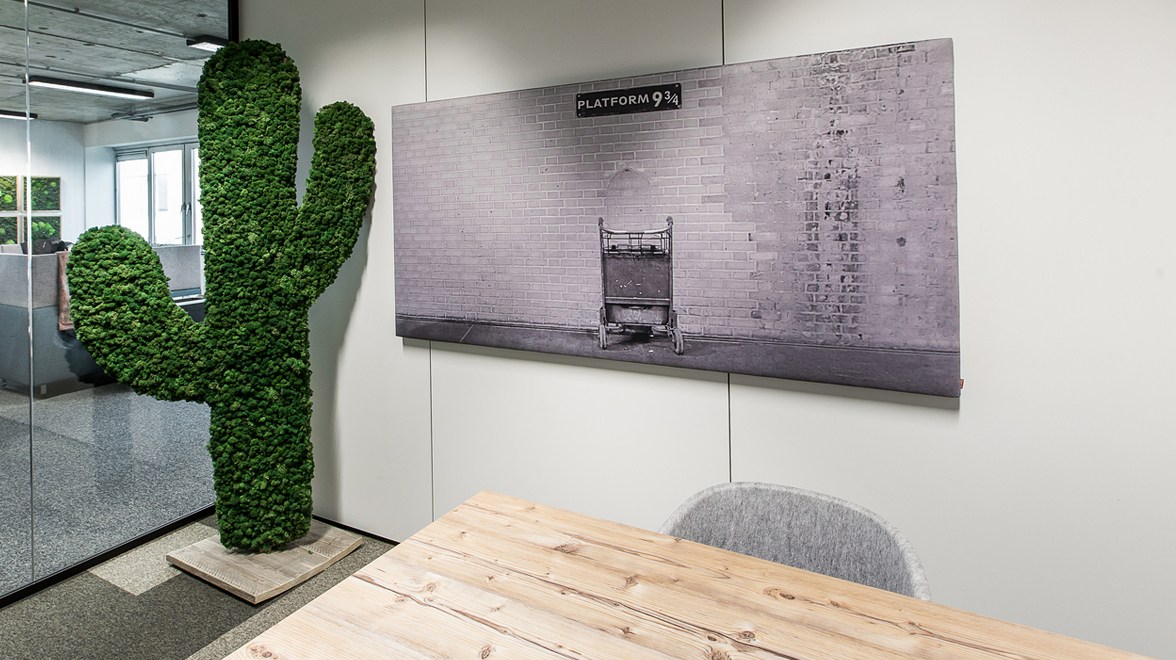 Meeting rooms with a twist
Not only were the meeting rooms named after the selected fictional places, a logo was also designed and put on the door. On top of that, our AcoustiPanels completely immersed the spaces in the atmosphere of these fictional places. In Platform 9 ¾ you can really see Harry Potter's trolley waiting at the entrance of the secret platform. In Gotham, Batman is looking down at his city wearing a waving cape. In Neverland there is a fight between Peter Pan and Captain Hook. There is a big golden ticket in Willy Wonka's Chocolate Factory meeting room. We could continue to name places that have been brought to life.
Hard materials and acoustics
The AcoustiPanels were of course not added to the meeting rooms just for fun. Imec had a structural problem. The technology company's meetings are mostly conference calls. Those were quite tough because the intelligibility was bad and there was a lot of echo in the meeting rooms. The hard materials where the building was made of are the cause of this problem. They needed acoustically improving upholstered materials in the form of our AcoustiPanels.
Do you suffer from echo and poor intelligibility during conference calls?
Drisag listens to your wishes and provides professional advice. Do you want to make intelligible conference calls without an echo? Talk to us here.
On the lookout for your perfect solution?
Our experts create the working environment that's perfect for you, with custom advice.