Een strakke renovatie met speels kantje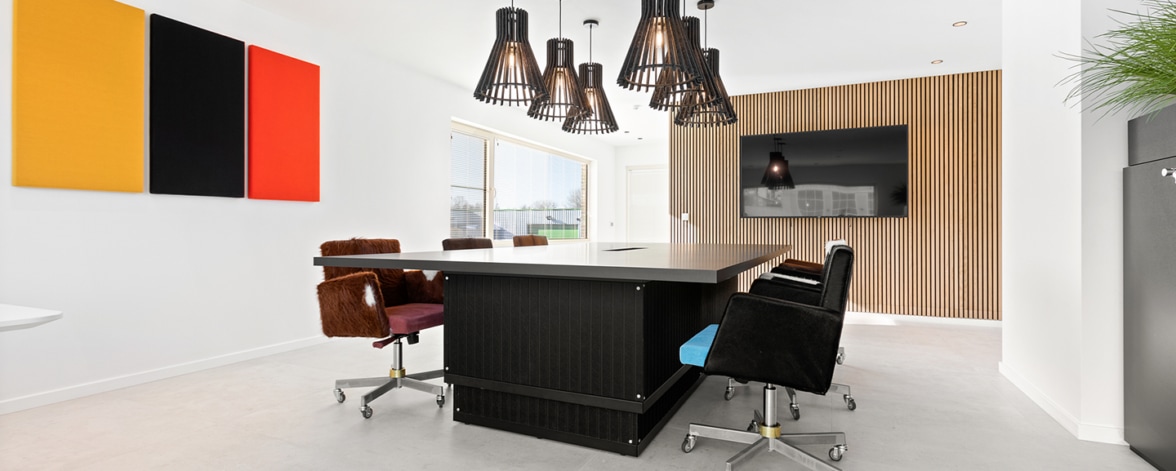 EBN-Tech is a young and dynamic company that strives to deliver quality. They extend this to all areas of their business. The interior plays a leading role in this.
A dynamic office that works
EBN-tech had a clear goal in mind. A working environment that is both flexible and functional. We went to work with this in mind. The result is an appealing office with clean lines and modern items. By using felt partition walls, we create privacy and optimal acoustics. The playful effect of the soft felt combined with the incidence of light give the rooms a nice modern twist.
Executive office to unwind
A minimalist interior with functional elements. That is the best way to sum up EBN-Tech's executive office. The contrasting white desk combined with the bright AcoustiPanels and the bouclé industry sofa create a beautiful whole. A workplace where the CEO can work, brainstorm as well as unwind. The office is multifunctional and also serves as a meeting room. The choice of quality was prominent and you can feel it in everything. The hard materials combined with the playful lighting create a timeless charm.
 Also looking for an office design that is flexible and functional? Our experts are at your service. With specific advice, tailored to your needs!
On the lookout for your perfect solution?
Our experts create the working environment that's perfect for you, with custom advice.