A sustainable transformation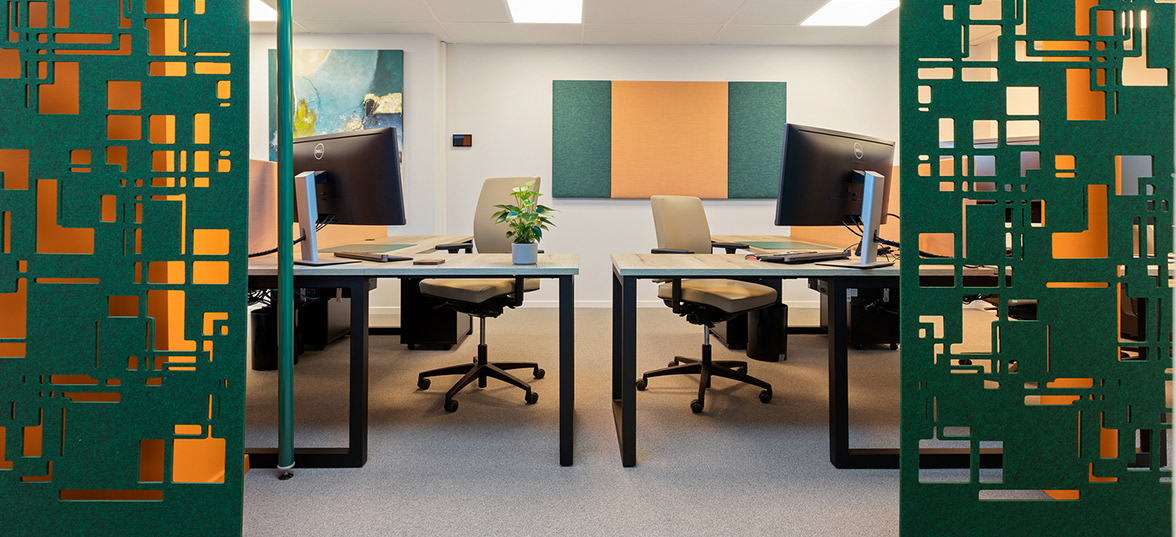 An important aspect of this project was sustainability. ACB Tax consult was already a valued client of ours, and we wanted to make sure we could make the most of their existing furniture. We were able to reclaim chairs by carefully reupholstering them. This created not only a sustainable solution, but also a unique mix of old and new elements that give the office a sense of authenticity.
When designing ACB Tax Consult's office, the colours of the corporate identity, green and orange, were central. These colours are playfully reflected in the interior, creating a seamless visual integration with ACB Tax Consult's logo.
To ensure privacy and acoustic separation in the corridor, we chose felt panels. These panels not only provide effective separation, but also fit perfectly with the overall design. The use of felt panels allowed us to combine functionality with aesthetics, creating a harmonious and stylish environment.
One of the main objectives of this project was to create a homely, warm and inviting working environment. We wanted to ensure that ACB Tax Consult had an office in which it is fun to work. To achieve this, we integrated carefully selected furniture and accessories that contribute to a cosy atmosphere. By using warm colours, comfortable seating and decorative elements such as lighting, we created an environment that promotes employee productivity and well-being.
Do you also want to create a unique workplace? Our experts will create your ideal working environment, with tailor-made advice. Talk to us here.
On the lookout for your perfect solution?
Our experts create the working environment that's perfect for you, with custom advice.